In preparation for our innovative Respiratory Drugs Hybrid Summit: from Development to Delivery taking place in 13-14 October, we are delighted to introduce this Pre-Event "Teaser" webinar -FREE for all!
With so many challenges to face when bringing respiratory products to market, we are providing an inside-industry look at this important topic with top Pharma, biotech, medical devices manufacturers, regulatory bodies, solution providers and research institutes. This Pre-Event webinar enables you to have a sneak peek at the premier topics from our expert speakers for the main event: 'Respiratory Drugs Hybrid Summit' on 13-14 October, 2022.
EVERYONE IS WELCOME AS WE HAVE 500 SEATS. DON'T MISS THIS PRE-EVENT TEASER AND NETWORK WITH THE INDUSTRY LEADERS!
Nélio Drumond is a PharmD by training with a PhD in Patient Centric Drug Product Design. He shares several years of experience in the Pharmaceutical Industry providing scientific leadership to govern the formulation and manufacturing strategies for drug product development projects during clinical stages, including their subsequent scalability and validation for commercial use. Currently, Dr. Drumond is responsible for the technical management and leadership of commercial manufacturing activities at different Contract Manufacturing Organizations (CMOs) for an established portfolio of Takeda products within the European region.
Vivek Gupta is an Associate Professor, and Associate Dean of Graduate Education & Research at St. John's University College of Pharmacy. Dr Gupta is an experienced pharmaceutical researcher with interests in developing novel therapies for respiratory disorders. His expertise lies in the fields of novel drug discovery and repurposing, and non-invasive delivery of small and macromolecules via inhalation route. He also has significant research interest in the fields of pharmaceutical scalability, and nano-repurposing. Dr. Gupta's research group has published >75 high-impact studies in peer reviewed journals. Dr. Gupta also serves on editorial boards of many peer-reviewed journals; and is also involved in national pharmaceutical organizations including AAPS and CRS. Multiple technologies and therapies developed by Dr. Gupta's group have been patented and have been licensed to biotech start-ups including PulmoSIM Therapeutics. Like11:39 am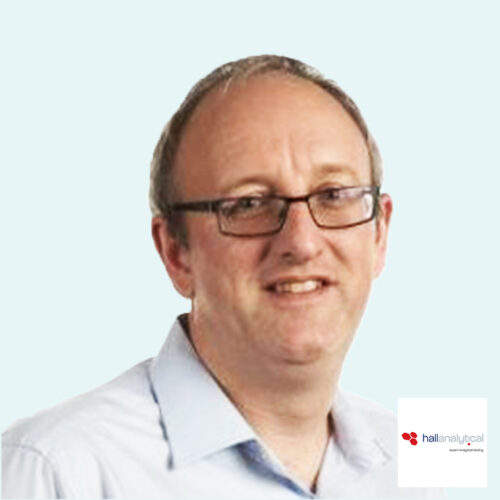 Hall Analytical Laboratories Limited are a contract analytical laboratory specialising in Mass Spectrometry.
Our skill within the Mass Spectrometry field has allowed us to support clients within a wide range of market sectors including Pharmaceuticals, Tobacco, Next Generation Nicotine products, Consumer products, Polyurethane Foam, Agrochemicals, Persistent Organic Pollutants and much more.

CONFERENCE PLATFORM
HOPIN
Network one-on-one over live video.
"Connect" and exchange virtual business cards for following up later.
Join breakout sessions and participate in groups.
Watch keynote presentations on stage, send chat messages, fill out polls, and explore interactive expo areas.