At Innovatrix we strive to create conferences that inspire and connect the top decision-makers from the largest industries in the world. From manufacturing and technology to finance and pharmaceuticals, we embrace innovation and focus on providing a breeding ground of sharing, networking, and discussion for our attendees. Our highly skilled team has a collective experience stretching back two decades in B2B events production, marketing, sponsorship and execution.
OUR SCHEDULED CONFERENCES
Electric-powered off-highway machines are now being deployed in increasing numbers around the world in the construction, mining, agricultural, forestry, and defence industries. With social and regulatory pressures to reduce emissions starting to be felt heavily and fewer concerns about costs and battery technologies, most OEMs are steadily moving towards electrification.
Recent days have seen a significant rise in automation and robotics technology adoption, primarily in construction, mining, and agriculture. This technology enhances safety and efficiency but presents challenges like regulation gaps and human-machine interaction. Join us at the 2nd Autonomous Off-Highway Machinery Technology Hybrid Summit to discuss building the best solutions, and share practices and experience among industry leaders and like-minded peers.
Our unique conference sponsorship packages offer you the chance to showcase your products, services, or solutions directly to a targeted audience of industry executives who need them. You can learn from our speakers – experts in their field who discuss only the most cutting-edge industry developments – and network with our audience of top-level delegates to make new business connections and maintain existing ones.
SUCCESSFUL CONFERENCE DELIVERY
ENGAGEWith a primary focus on knowledge exchange, our B2B conferences cater exclusively to industry leaders and decision-makers. We structure our forums to ensure the best possible flow of useful information from our leading industry speakers. Providing our clients with unique opportunities for networking and the perfect platform for learning, analysing, and embracing new business ideas.
INSPIREWe assemble the foremost specialists from some of the world's most prestigious international enterprises as speakers. Chosen to inspire discussion surrounding groundbreaking, innovative and pioneering advancements, our attendees will learn from, interact with, and network with these industry specialists. With the aim of successfully implementing these new ideas, business practices, or even partnerships, back to their institutions.
INNOVATEWe hope the ideas and concepts that are discussed at our conferences will go some way towards aiding innovation in our focus industries. We are just as much about action as talk. We promote genuine idea sharing that will inspire useful revolution within the enterprises we partner with, striving to produce conferences with a focus on enterprise transformation or improvement.
GET INSPIRED WITH OUR PAST EXPERIENCE
Electric drivetrain for commercial vehicles
Operational Excellence and Continuous Improvement forum
KYC and Client Onboarding for financial institutions
Robotic Process Automation and AI Revolution 2020

"Very good presentations, very good speaking panel! What I enjoyed the most was the networking"

Thomas TomaszewskiVice President of Business Development
Xerotech

"The presentations were wonderful; it was a great learning experience for me"

Rahul MadhavanDirector – Sustainability, E-Mobility & Decarbonisation
HITACHI

"It has been really good making new friends and new colleagues, very fruitful!"

Teemu SarjovaaraHead of R&D, Products and Applications
NESTE

"It was great to see so many different presentations from all areas of this off-highway electrification. We will be here next year"

Jeroen SoepnelHead of Marketing CSB
Webasto

"Good composition of speakers, content was also good with fantastic interaction"

Anders HedqvistHead of Strategic Projects
Epiroc

"Good composition of speakers, content was also good with fantastic interaction"

Anders HedqvistHead of Strategic Projects
Epiroc

"Indeed a very interesting Summit!"

Dr. Michael MühleHead of Viral Vector Processing – Development and Production
ProBioGen AG

"It was really a successful, interactive, impressive and well attended conference. Arrangements and handling of the event was really impactful"

Mahesh SainiHead Quality AssuranceSun Pharmaceutical Industries
SUN PHARMA

"The event was really interesting and well organized"

Francesco BoschiChairman of Microbiology Interest Group
A.F.I. (Associazione Farmaceutici Industria)

"Over these 2 decades I have been to lots of congresses, summits – you name it. This one I would rank at the top. I thought I'll attend only the lectures that apply to my work the most – but I ended up attending them all"

Ivan VelimirovicSenior Associate
Hemofarm AD

"Thank you for the opportunity! Awesome conference!!!"

Fred OhsiekSenior Global Technical Manager
Ecolab

"Over these 2 decades I have been to lots of congresses, summits – you name it. This one I would rank at the top. I thought I'll attend only the lectures that apply to my work the most – but I ended up attending them all"

Ivan VelimirovicSenior Associate
Hemofarm AD

"Very good presentations, very good speaking panel! What I enjoyed the most was the networking"

Thomas TomaszewskiVice President of Business Development
Xerotech

"The presentations were wonderful; it was a great learning experience for me"

Rahul MadhavanDirector – Sustainability, E-Mobility & Decarbonisation
HITACHI

"Thank you for the opportunity! Awesome conference!!!"

Fred OhsiekSenior Global Technical Manager
Ecolab

"It has been really good making new friends and new colleagues, very fruitful!"

Teemu SarjovaaraHead of R&D, Products and Applications
NESTE

"It was great to see so many different presentations from all areas of this off-highway electrification. We will be here next year"

Jeroen SoepnelHead of Marketing CSB
Webasto

"Good composition of speakers, content was also good with fantastic interaction"

Anders HedqvistHead of Strategic Projects
Epiroc

"Indeed a very interesting Summit!"

Dr. Michael MühleHead of Viral Vector Processing – Development and Production
ProBioGen AG

"The event was really interesting and well organized"

Francesco BoschiChairman of Microbiology Interest Group
A.F.I. (Associazione Farmaceutici Industria)

"It was really a successful, interactive, impressive and well attended conference. Arrangements and handling of the event was really impactful"

Mahesh SainiHead Quality AssuranceSun Pharmaceutical Industries
SUN PHARMA
New York, USA
Hotel Riu Plaza New York Times Square
Surrounded by theaters and restaurants, this polished high-rise hotel in Hell's Kitchen is a 4-minute walk from the nearest subway station, a 13-minute walk from Central Park and 3 minutes on foot from Times Square. 305 W 46th St, New York, NY 10036, United States +16468641100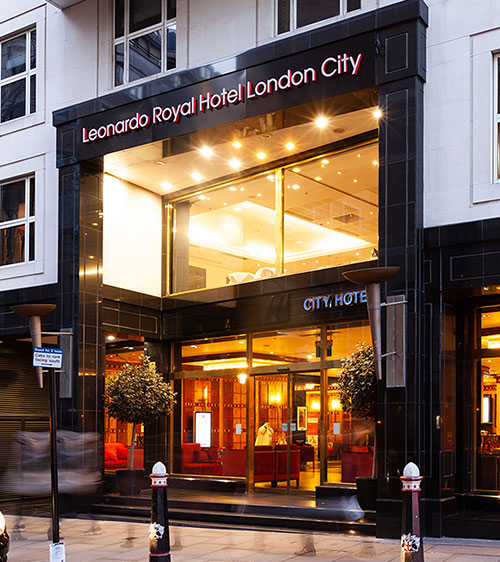 London, UK
Leonardo Royal London Tower Bridge
This chic high-end hotel is a 6-minute walk from Tower Hill tube station and an 11-minute walk from the Tower of London. 45 Prescot St, London E1 8GP, United Kingdom +442079595000
Lisbon, Portugal
DoubleTree by Hilton Hotel
A 3-minute walk from the nearest metro station, this contemporary hotel is 4 minutes' walk from shops and restaurants in the Atrium Saldanha shopping mall. It's also 3 km from the hilltop São Jorge Castle. R. Eng. Vieira da Silva 2, 1050-105 Lisboa, Portugal +351210410600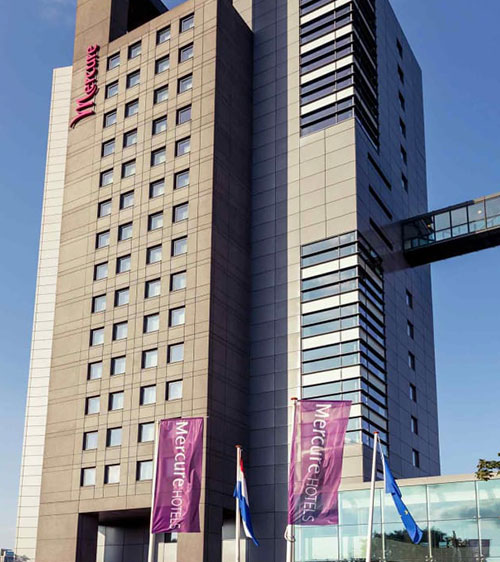 Amsterdam, Netherlands
Mercure Hotel Amsterdam City
This modern, riverside hotel is an 8-minute walk from the Overamstel metro station, 2.7 km from the Zuidas business district and 4.8 km from lively Dam Square. Joan Muyskenweg 10, 1096 CJ Amsterdam, Netherlands +31207219176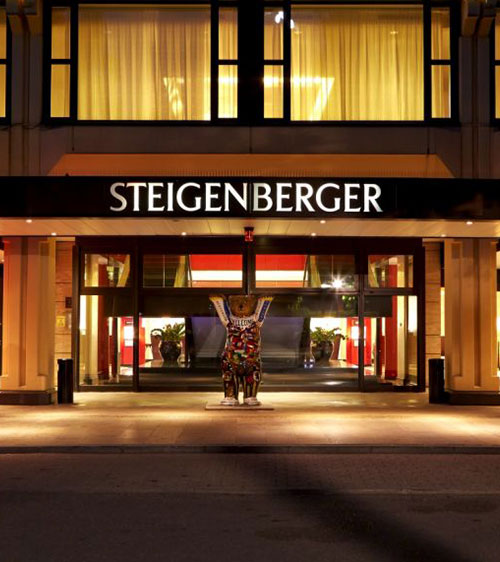 Berlin, Germany
Steigenberger Hotel Berlin
A 4-minute walk from 2 U-Bahn stations and the upscale shops of bustling Kurfürstendamm, this polished, modern hotel is also 3.7 km from the Brandenburg Gate. Los-Angeles-Platz 1, 10789 Berlin, Germany +493021270
Frankfurt, Germany
Steigenberger Hotel Metropolitan
Across the street from Frankfurt Central Station, this formal hotel with a neoclassical facade is a 15-minute walk from the Städel museum and 2.1 km from the Zeil shopping street. Poststraße 6, 60329 Frankfurt am Main, Germany +49695060700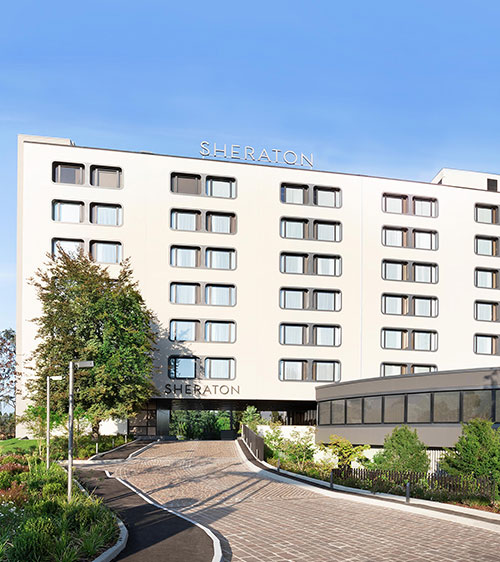 Milan, Italy
Sheraton Milan San Siro
Among businesses, this sleek hotel is 2 km from soccer matches at San Siro Stadium and 6 km from St. Mary of the Graces, home to The Last Supper. It's 5 km from the Milano Domodossola railway station. Via Caldera, 3, 20153 Milano MI, Italy +3902915221